We preach Christ crucified
Jesus said, "Feed my sheep"
For I am not ashamed of the gospel, for it is the power of God for salvation to everyone who believes
God desires all people to be saved and to come to the knowledge of the truth
Christ is the center in both our preaching and teaching. The forgiveness of sins is at the heart of the Divine Service. The Lord's Supper is served every Sunday. We follow the liturgy as found in the Lutheran Service Book. Please join us.
Faith Lutheran Church is faithful to the Holy Scriptures and to the Lutheran Confessions. We are a member of the Lutheran Church—Missouri Synod.
22 January, 2023 - Third Sunday After The Epiphany
15 January, 2023 - Second Sunday After The Epiphany
Divine Service Sundays
8:00 AM and 10:45 AM

Sunday School & Bible Study
9:30 AM
Please visit our YouTube channel using the YouTube button above for more recordings of sermons, services, and more.
November 30 at 7:00 p.m. – Isaiah 11:1-10 ~ A Root of Jesse
December 7 at 7:00 p.m.- Sunday School Advent Service ~ Emmanuel, God with Us
December 14 at 7:00 p.m.- Isaiah 9:2-7 ~ The People that Walked in Darkness
CHRISTMAS EVE CANDLELIGHT SERVICES
Saturday, December 24
5:00 and 7:00 p.m.
CHRISTMAS DAY DIVINE SERVICE
Sunday, December 25
8:00 a.m. and 10:45 a.m.

North Texas Free Conference
Christ, Culture, and Woke Ideology
January 28, 2023
Faith Lutheran Church
1701 East Park Blvd. – Plano, Texas 75074
Sign up for the Free Conference here:
https://tinyurl.com/5mbtu28w
Schedule
Saturday, January 28, 2023:
8:00 am  – Matins
8:45 am  –
How We Got Where We Are Today: The sexual revolution, a man claims to be a woman, transgenderism, etc.?
9:45 am – Break
10:00 am –
The Sinister Worldview Behind: Diversity, Inclusion, and Equity (DIE)
11:00 am – Break
11:15 am –
How a Lutheran College can remain Lutheran
12:15 pm – Responsive Prayer I, page 282
12:30 pm – Lunch in the Gym
There will be a free will offering to offset conference expenses.
We live in a pagan society that has rejected God's Word and natural law. Evil is all around us. St. Paul says that we fight against the "spiritual hosts of wickedness" (Ephesians 6:12). It's easy to be depressed as we see the culture around us getting worse and worse. Yet, Christ won the victory over death and the devil. Sins are paid for by the blood of Christ. By God's grace, we remain faithful to God's Word. Affirm the Bible's support of life, marriage, and family. We, the baptized, are in the world, but we are not of the world. We are a light in a dark world confessing Christ as our Savior.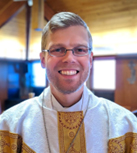 Rev. Dr. Christian Preus has served as pastor at Mount Hope Lutheran Church since 2016. He received a BA in Classics from the University of North Dakota (2006) and an MA and PhD in Classics from the University of Iowa (2008, 2012). He studied to become a pastor at Concordia Theological Seminary in Fort Wayne, IN. He translated Philip Melanchthon's Loci Communes 1521 (CPH). He has a regular column in LOGIA and has published numerous articles on the Lutheran exegetical tradition. He is the Chairman of the Board of Regents for Luther Classical College and editor of the quarterly magazine, Christian Culture: A Magazine for Lutherans. He and his wife, Lisa, have nine children. Pastor Preus enjoys skiing and running on the mountain, playing hymns on the piano, playing football with his boys at the park, and talking theology, politics, and history with his wife and children.
The Gifts Christ Freely Gives
These are written so that you may believe that Jesus is the Christ, the Son of God, and that by believing you may have life in his name.
Baptism is not just plain water, but it is the water included in God's command and combined with God's word.
Of the bread, it is what Jesus said it is, namely "This is my body." And of the wine, "This is my blood."



Christian education is the application of Law and Gospel to all aspects of life and learning.
We believe that second only to the Christian home, the Christian day school is the most effective education agency available to the church for equipping children for a life of service to God.
Classical education is an intense course of learning that seeks to endow students with the ability to master any subject. Through an integrated and focused curriculum, this method supplies children with the tools necessary for higher academic achievement.
For more information, please visit our school's web site.