We preach Christ crucified
Christ is the center in both our preaching and teaching. The forgiveness of sins is at the heart of the Divine Service. The Lord's Supper is served every Sunday. We follow the liturgy as found in the Lutheran Service Book. Please join us.
Faith Lutheran Church is faithful to the Holy Scriptures and to the Lutheran Confessions. We are a member of the Lutheran Church—Missouri Synod.
The Gifts Christ Freely Gives



These are written so that you may believe that Jesus is the Christ, the Son of God, and that by believing you may have life in his name.
Baptism is not just plain water, but it is the water included in God's command and combined with God's word.
Of the bread, it is what Jesus said it is, namely "This is my body." And of the wine, "This is my blood."
Divine Service Sundays
8:00 AM and 10:45 AM



Sunday School & Bible Study
9:30 AM



1 October 2023 - Seventeenth Sunday After Trinity
17 September, 2023 - Fifteenth Sunday After Trinity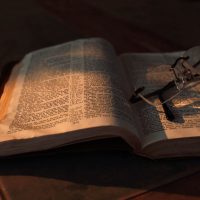 Jesus said, "Feed my sheep"
For I am not ashamed of the gospel, for it is the power of God for salvation to everyone who believes
God desires all people to be saved and to come to the knowledge of the truth
Christian education is the application of Law and Gospel to all aspects of life and learning.
We believe that second only to the Christian home, the Christian day school is the most effective education agency available to the church for equipping children for a life of service to God.
Classical education is an intense course of learning that seeks to endow students with the ability to master any subject. Through an integrated and focused curriculum, this method supplies children with the tools necessary for higher academic achievement.